Road Works
LNC Earthworks, Orange Road Works and Road Installations.
LNC Earthworks is equipped for small to medium scale road works and road installations.
We have the perfect tools for the job and ensure an outstanding finish. As well as making roads we make them correctly, with drainage if necessary and using the right materials.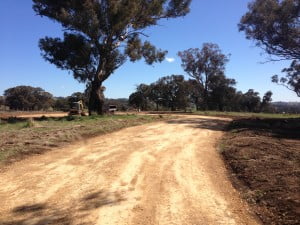 The above image is of a road installation at Forest Reef, New South Wales. The top soil was dug out with our 7 ton excavator, saving the top soil for later use. We then installed geo fabric and drainage pipes in the road, bought in bridging rocks to cap off the geo fabric and installed a 40mm layer of limestone gravel, then finished by watering and rolling the road.
For more on the job pictures with descriptions, check out our photo gallery, for videos of us on the job check out our videos page.
To contact us with questions or for a quote, click here or phone 0428 038 754.